You may be the information junkie type and need to do "your research". If so, we understand as we have a few of those in our house!
You may not need all the info but simply have a question you want an answer for. Here is our FAQ section to try and answer those questions for you! Just click on the link that best applies and do your research. If we don't answer it here, we'd love to hear from you so either email or call!
How much freezer space will I need?
You will need at least 1 cubic foot of freezer space for every 35 lbs. of meat. Therefore, for a half of a half (a quarter steer) will probably yield you between 80 and 110 lbs. of beef so you will need 2.5-3.0 cubic feet of freezer space. It is better to have more space set aside since you will find ways to fill it but being short on space at this stage of the game is not a good thing.
What is the packaging process?
Beef is cut, trimmed, cleaned, vacuum sealed, labeled and frozen. The meat is vacuum sealed in quality, freezer-ready packages. We use a clear "bone guard" to avoid puncturing any of your bone-in products as well.
How do I go about picking up my order?
Please make arrangement to pick up your order within 10 days of us emailing you that your order is ready. A stocking fee of $5.00 per day is charged after the tenth (10 th) day following your email notification. After 20 days of your initial email notification, a daily stocking fee of $20 per day will be assessed.
Picking up your beef at our store front is easy. Just call ahead to let us know the day and approximate time you will be coming to pick it up. We are an easy 45 minute drive from northwest Houston to our ranch. We are 90 miles from Austin and about 3 hours from Dallas. We will have your beef in small boxes. You can bring some coolers to place it in if you'd like. Plan on going straight home before it thaws to place it in your freezer.
Can I get my order delivered to my home for an additional fee?
We do offer a home delivery of your order at an additional charge. We'll bring it right to your door step! Please call or email us with an address and a preferred day and time frame for delivery and we will provide you with a quote. Most local deliveries run about $75.
The key here is you must guarantee you will be home. If we deliver as promised and you are not home at the time, we cannot release the beef and we will have to charge you the delivery fee. There is the option of having you sign a "Complete Release and Deliver Form" prior to our delivery and we will leave it with a neighbor or on your porch, however you designate. However, the "Complete Release and Deliver Form" voids our 100% Money Back Guarantee and you are 100% responsible from that point forward. We recommend you come to the ranch to pick it up because you will enjoy the visit!
Will my price change if the market fluctuates?
Because of the rapid rise in the cost of grain, fuel, fertilizer and most everything else we are using in the process raising of our stock, we offer a price that is good only for the dates stated on the order form found in this website. Prices are adjusted throughout the year as our costs change - and you will also observe this phenomenon in supermarket beef prices.
But, once you have ordered your beef, whatever that price is will be the price you pay, plus any required taxes. Once you sign up and make your deposit, your price is guaranteed for that share of the steer – so it can not be increased! Obviously, there can be an increase in sales tax should one occur.
What cuts and approximate quantities should I expect with a Whole Steer?
These cuts and quantities do vary. It's important to remember these are only estimates.
WHOLE STEER
The whole steer produces approximately 400 pounds of quality, wholesome, all natural and healthy beef featuring a variety of cuts to satisfy your taste! Because our Third Day Beef is vacuum sealed it can be stored easily for 12-14 months in a reliable freezer.
HERE ARE A FEW THINGS YOU MAY BE INTERESTED IN KNOWING:
* A whole steer will typically yield 375-400 pounds of packaged beef.
* A whole steer requires 16 cubic feet of freezer space for storage (2'x4'x2').
* A whole steer usually requires its own middle-sized chest freezer.
* Most families of four will be content for a year with one whole steer.
* The current reports show the average American currently consumes 64 lbs. of beef annually.
* Beef keeps well for 1 year in a good, cold freezer.
What cuts typically come from a Whole Steer?
Filet Mignon 16 steaks

NY Strips 28 steaks

Rib Eye Steaks 16 steaks

Sirloin Steaks 48 steaks

Stir Fry 1 lb 40 packages

Ground Beef 1 lb 265 packages

Beef Jerky (optional)

Sausage (optional)
What cuts and approximate quantities should I expect with a Half Steer?
These cuts and quantities will vary. It's important to remember these are only estimates.
Half Steer
A Half Steer is exactly that - half of the steer. You'll get both a front and a hindquarter with your "half steer".
The whole steer when processed produces approximately 400 pounds of wholesome, all natural and healthy beef. When ordering a half of a whole steer you will receive approximately 200 lbs. of packaged beef.
We recommend splitting a steer with another friend or family as this will expedite your order because the whole steer must be sold before it is available to you for processing. Also, please remember that buying the steer by the whole is cheapest so try and arrange with some other friends to buy the whole steer and let us do the separate packaging for you to still insure you are getting the whole steer price!
What are the Do's and Don'ts when transporting my packaged beef home?
Do make sure your freezer is working properly for several days prior to pickup.
Do have the freezer at zero degrees, and make sure that the gasket is in good repair before bringing the meat home.
Do NOT put the meat in the back bed of a pickup truck as the sun will bake on it during your drive.
Do NOT put the beef in your car trunk unless it is in a cooler.
DO place the meat in coolers, or minimally if coolers are not available, cover the boxes with blankets and turn the air conditioning on.
Do drive directly home, don't stop for lunch!
Do put the beef directly into your zero degree freezers.
Are taxes included in my order?
Taxes are not included in the prices we have quoted on the website.
All applicable taxes will be added to your invoice and submitted to the proper taxing authorities after payment has been received from you.
What is the age of the steers being processed through Third Day Beef?
The age range of our steers is approximately 14 to 20 months of age.
Is the beef wrapped in butcher paper?
No, the processed beef is individually wrapped in air-tight, vacuum sealed, freezer ready packaging.
Product with the bone still in such as a T-Bone or Rump Roast has a puncture resistant clear "bone guard" added. Essentially, it is an additional layer of plastic placed between the bone and the outer plastic vacuum packaged to assist in preventing a puncture by the bone.
What size packages does the ground beef come in?
They come in your choice of a 1 lb. or 2 lb. package.
Do you offer any other packages that do not require me to buy the minimum half steer?
Occasionally we will have certain product specials or packages that range in the $200 area. Be sure to check back at our site and also register for updates via email to catch these specials.
What does the stated price per pound include?
It includes the steer itself, the shipping to and from the processing plant, the processing charges for standard orders, 21-day dry aging process, all cutting, cleaning and vacuum packaging. Additional charges of course apply if you order sausage, marinated beef, beef jerky, etc.
What happens if I purchase some beef and do not like it?
We will regret that, of course, but we always offer a 30-day money back guarantee for any unused portion returned in good, originally frozen condition. We urge everyone to let us know immediately if there is any kind of problem with the meat. (And you can tell us if you like it, too.)
What is the 100% Third Day Beef Satisfaction 30-Day Guarantee?
If our beef does not please you within the first 30 days from purchase, we guarantee to replace or to return your money on all returned, undamaged packages of beef – totally your call.
This beef takes almost 30 months to produce and while we are continually improving the processes and inputs of our herd and working with our processing plant whose standards are high, there is no way every package will always be perfect!
So if you happen to get a tough cut or two, please call us - WE want our beef to exceed your expectations, so please let us know if you are not pleased.
(And while you're at it, let us know when you are pleased so that we can let our other customers know about your experience as YOU are our best sales person!)
How is Third Day Beef priced compared to grocery stores?
You won't find much of this type beef in the stores. 21-day dry-aging is very hard to find these days due to how much time and freezer space it requires making it too expensive for today's consumer.
You will find that our beef sells for about the same price as supermarket top of the line beef with all the guarantees and assurances that we have stated herein.
Do you really believe what you are doing is making any difference nutritionally or environmentally?
Without a doubt, we sure do. We are being good stewards of the land, while producing beef that we want our children and grandchildren to eat, while treating the animals we tend to with care and respect.
Can I get my steaks cut 2" thick?
If that's how you want them cut, that's how you'll get them cut! Just be sure to let us know when you are making out your order on our website.
Where do the various cuts come from on a steer?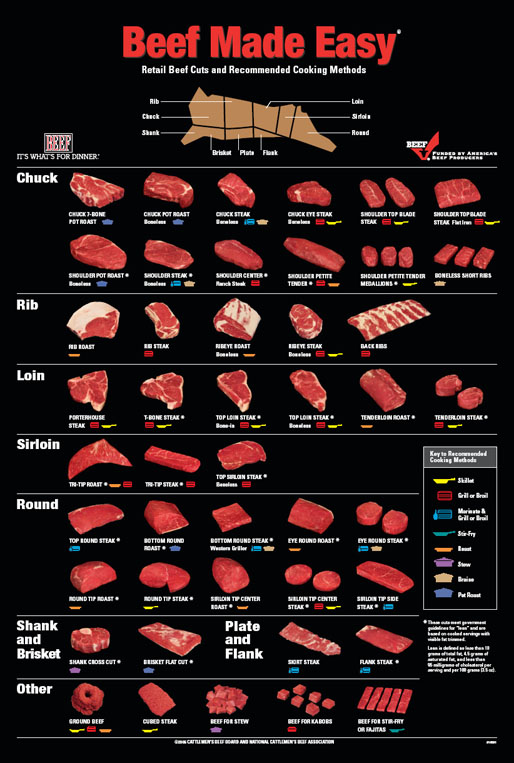 What does "Natural Beef" mean?
After years of debate, USDA's Agricultural Marketing Service has finally released a standard to help answer that question and define how "natural" should be applied to livestock production claims.
The voluntary standard was published in the Jan. 21 st, 2009 edition of the Federal Register. The "naturally raised" standard will say that livestock used for the production of meat and meat products have been raised entirely without growth promotants and antibiotics (except for ionophores used as coccidiostats for parasite control), and have never been fed animal byproducts.
Are Third Day Beef steers considered "Natural" according to the USDA definition?
Definitely we meet these criteria. No hormones, implants or unapproved antibiotics are administered and the cattle never receive any animal byproducts.
What is the difference between Dry-Aging and Wet-Aging of beef?
At Third Day Beef, Dry-Aging is our process for aging the beef during processing. To dry-age beef, the sides are hung without packaging, in a cooler where the proper conditions of temperature, humidity and air movement are accurately maintained.
During the aging process, the beef is protected by an outer layer of fat. After approximately three weeks (thus 21-day aging process) the beef has become incredibly tender, the outer fat is trimmed off and the butcher begins to process the meat into your individual cuts.
Wet-Aging is the alternative process though not the same outcome is achieved with the beef. Most large-scale beef operations, like the ones that supply supermarkets and grocery stores do not age their beef at all because of the added cost. The supermarkets that do use an aging process are today using what is referred to as Wet-Aging.
Wet-Aging places individual cuts in vacuum bags so they can be shipped without hanging time. The vacuum sealing is intended to replace the protection that the fat layer provides in the Dry-Aging process.
The disadvantage of Wet-Aging is that the beef can't breathe, and it remains at a higher moisture content during this shortened process. In this environment, the beef can become tender, however it tends to take on a metallic taste that doesn't even come close to the rich flavor of Dry-Aged beef.
Third Day Beef is always Dry-Aged for 21-days and never Wet-Aged. This way you are assured of the best flavor and tenderness every time!
Can you give me a detail breakdown of cuts that a 1400 lb. steer will yield?
Example of Possible Cuts: 1,400 Pound Steer
In this example we will use a steer that weighs 1,400 pounds on the hoof. Remember that a steer will dress about 65% of his live weight.
The whole, dressed steer will weigh about 910 pounds, and a half-beef will weigh about 455 pounds.
The fore quarter (front) will weigh about 52% of the total, dressed weight of the beef, and the hind quarter will weigh about 48%.
Here are the weights of our 1,400 pound steer example (910 pounds after dressing) ---
Fore quarter of a whole, dressed steer = about 473 pounds
Hind quarter of a whole, dressed steer = about 437 pounds
Fore-Quarter Cuts of a 1,400 Pound Steer:
Weight
Fore Quarter Cuts Percent Full-Steer Half-Steer
---
Rib Roast (steaks) 9% 43 pounds 21 pounds
Bls. Stew Meat 4% 19 pounds 10 pounds
Short Ribs 3% 14 pounds 7 pounds
Chopped Steak (hamburger) 27% 128 pounds 62 pounds
Chuck Roast & Steak 26% 123 pounds 62 pounds
---
Sub-Total 69% 327 pounds 162 pounds
Bone, Fat & Trimmings 31% 147 pounds 73 pounds
---
Totals 100% 474 pounds 235 pounds
Hind-Quarter Cuts of a 1,400 Pound Steer:
Weight
Hind Quarter Cuts Percent Full-Steer Half-Steer
---
T-Bone & Club Steaks 14% 61 pounds 31 pounds
Sirloin Steaks & Roast 12% 52 pounds 26 pounds
Round Steak or Roast 22% 96 pounds 48 pounds
Rump Roast (bls) 6% 26 pounds 13 pounds
Flank Steak 2% 9 pounds 4 pounds
Ground Beef 12% 52 pounds 26 pounds
---
Sub-Total 68% 296 pounds 148 pounds
---
Bone, Fat & Trim 32% 140 pounds 70 pounds
---
Total 100% 436 pounds 218 pounds
Is Third Day Beef grass-fed or grain-fed?
It is both!
One hundred percent grass-fed beef is gaining interest and seems to be a trend for some although it is still represents the minority of all processed beef sold in America.
It's good either way because after 8500 years of our human race consuming beef, ultimately all beef consumption is beneficial.
The United States is known world-wide for its high quality, grain fed beef. Unlike other countries, we can produce quality beef, because we have the resources to graze cattle on grass, and finish them on grains. American consumers have come to love the taste of grain fed beef. It's the high quality you are used to eating.
At Third Day Beef, our steers spend most of their lives on lush Coastal Bermuda grass. They are grass-fed animals. Yet we choose to put them on a natural grain product for the last few months, to give flavor and taste to the beef that we have all come to love.
We offer you the best of both – grass fed and grain fed!
What are your payment options?
We accept payment by credit card or check. We do accept MasterCard and Visa. We require a deposit at the time of order, $1000 for a whole steer, and $500 for a half steer.
What is the price and value difference between what I will pay for Third Day Beef and what I'd pay at my grocery store?
You can find cheaper beef. You cannot find safer, better tasting beef for this price though.
It's not fair to compare only the price per lb. of the generic beef available at the local supermarket with the beef you will be enjoying from Third Day Beef.
If you just take the price into consideration, you might conclude that ours is probably going to average only $ .70/lb. less based on the surveys we have done!
What you are getting though is quite a bit of quality and safety:
Consider what you already know about the beef coming from Third Day Beef, compared to what you DONOT know about the generic beef sold in a store.
We encourage you to also call on other local producers who may have something to offer, and we want you to compare our product to those you find.
You should NOT only be concerned with the price per pound, so be sure to ask about all the processes that go into raising and producing the final beef end-product.
All of Third Day Beef's steers are:
1) Natural Organic Beef (50+% Angus genetics or more).
2) Truly hormone and antibiotic free - some supermarkets carry this type of beef at a premium price, but we have not found (in a typical supermarket) beef that is both from Angus sires and is also dry aged for 21-days.
3) Dry-aged beef just like in the great steakhouses of upscale restaurants and gourmet retail groceries - this increases tenderness and flavor, and it is not only the steaks that are dry aged but roasts and ground beef too - everything.
Dry-aged beef has the taste your parents would remember. It was the process used until about 40 years ago, now mostly replaced by wet-aging in a plastic bag because it is cheap and quick to do. Dry aged beef is juicy, but contains slightly less water than wet aged beef. Dry aged meat is still available on the Internet and in a few stores, but at a great premium.
Some local farmers offer beef, but they age only for about 10 days. Most experts believe you need at least 14 days of dry aging, and a very few think 21 days.
4) Truly Source Verified - that is, the Third Day Beef steers come from calves that were bred and born here on our ranch.
5) Humanely Raised – these are calves that grazed on pasture the bulk of their time and were neither subjected to a confined feed yard, nor trucked half way across the country to a feed yard.
6) Under 20 Months of Age – These steers are averaging 15 months of age when harvested; youth translates into tenderness. Young animals are more tender than old. Most of the hamburger you buy in stores comes from old dairy and beef cows that are no longer productive.
7) Lean, Flavor-Centric Feeding Process - We use a very slow, meticulous, process of feeding calves and aging the meat, both of are expensive, but we feel it is worth the time and effort because of the flavor and tenderness we achieve.
Since we eliminate many of the middle men, we are able to bring to you our beef at a very competitive price and despite being a very small operation. We do not receive the large discounts that huge feedlots get when then buy feedstuffs for thousands of cattle in their pens.
8) NO Chemicals Added – This is one of the reasons we are so passionate about our beef. We KNOW what's in it, that's why we feed our family with it. Our beef is NOT injected with fluid and "natural flavors" as one of the largest meat sellers in the country does. We don't need to add flavor, it is already there. When you go to the super stores, turn over the beef package and note what the little label on the back states - you'll be surprised.
9) Finished on Grain for Flavor - when comparing our beef to other potential cattle producer's products please take into consideration the following:
Third Day Beef steers are grain fed for about 6 months. Even the beef you buy in the store is fed grain for about 5 months, many producers will only feed for a very short time and call it grain fed – the point is, it really isn't grain fed if you only do it for a short period of time. It takes time for the grain to impact the flavor and tenderness of the meat.
10) We cannot guarantee the price per pound of the beef you will buy here since this will vary with each animal's yield and trim and shrinkage during aging. However, our estimates are pretty close to the actual experience.